Open Health Wins Bronze Stevie Award
November 16, 2015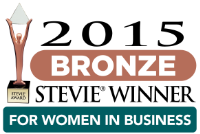 Finalists Honored at Ceremonial Event in New York City
BURBANK, CA –  Cast & Crew Open Health has been named a Bronze Stevie® Award winner in the Best New Business Product or Service of the Year category in the 12th annual Stevie Awards for Women in Business. Providing a unique Affordable Care Act-compliant health care insurance offering especially designed for the entertainment industry, Cast & Crew Open Health is the first-and-only industry-wide, multiple-employer healthcare plan designed for non-union employees. The award was presented to Shardell Cavaliere, President of Cast & Crew Life Services and industry-solution developer of Open Health.
Nicknamed the Stevies for the Greek word for "crowned," the awards were presented to winners during a November 13, 2015, dinner event attended by more than 400 people at the Marriott Marquis Hotel in New York City. The Stevie Awards for Women in Business honor women executives, entrepreneurs, employees and the companies they run – worldwide. Recognized as the world's premier business award, more than 1,300 nominations from organizations of all sizes and in virtually every industry were submitted for consideration in more than 90 categories.
"We are honored to be recognized in a category that celebrates exceptional women in business and proud that Cast & Crew Open Health has won a Bronze Stevie Award for Best New Business Product or Service," said Cavaliere. "In just over a year, we have been able to provide more than 10,000 participants with access to affordable health coverage—something the entertainment industry had never experienced before—and are even more excited to see what we can accomplish next year."
Stevie Award winners were selected by more than 160 executives worldwide who participated in the judging process this year.
"We are again humbled by the accomplishments of so many high-achieving women in this program," said Michael Gallagher, founder and president of the Stevie Awards. "Their work is an inspiration to girls and women around the world who dream of starting and growing a business, managing a leading company, or improving their community. We congratulate all of this year's Grand, Gold, Silver and Bronze Stevie Awards winners."
To learn more about Cast & Crew Open Health, please visit: www.cc-openhealth.com.
Details about the Stevie Awards for Women in Business and the list of Stevie Award winners are available at www.StevieAwards.com/Women.
—
Media Contact
Marketing & Communications Department
818.848.6022
marcomm@castandcrew.com
View PDF