CFC: New Partnership with Canadian Film Centre
March 03, 2016

By Cory Angeletti-Szasz
---
There is no doubt that writers are a key and invaluable part of the TV creation process. They are the individuals responsible for creating plot lines, dialogue, characters and situations – lines that people may reference for days, months and even years to come, and characters that resonate with individuals and even have the power to change, shape and inspire them. But TV writers are more than that. As Tom Hastings, Bell Media's Director of Independent Production, pointed out to the TV writer residents and audience at last night's 2015 Bell Media Prime Time TV Program Showcase.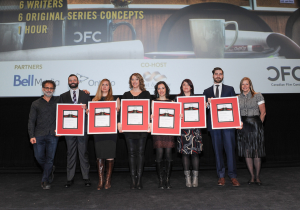 We are so fortunate to work with amazing mentors, guests and supporters year after year, and this year was no exception. We were thrilled that award-winning writer/producer/creator Avrum Jacobson was available to run the storyroom component of the program as our Executive Producer mentor, and it seems as though he enjoyed his experience mentoring these residents as well. He had these sentiments to share at last night's showcase, "It was one of the great honours and pleasures of my career, and in fact of my life, to work with the CFC and the six amazing writers."
In the past five years alone, the Bell Media Prime Time TV Program has trained 39 TV writers and has developed 39 original TV series concepts for the marketplace, including five series from top Executive Producer mentors.
Throughout the past five months, the Bell Media Prime Time TV Program writers – Nicolas Billon, Molly Clayton, Diana Frances, Sarah Goodman, Ruth Madoc-Jones and Eric Putzer – have helped develop Avrum's new drama series Out Of Time through the storyroom component of the program, and they have also developed their own original series concepts, delivering six new pilot scripts to the marketplace.
Yesterday evening's Showcase event gave audiences a glimpse into the TV writers' original series concepts through the screening of their TV Teasers, which are designed as an expedient and entertaining way for viewers to be introduced to some exciting new projects and writers.
We are deeply grateful to Bell Media, who has sponsored the Prime Time TV Program for the past four years, and extend thanks to the Government of Ontario, who continues to support the CFC and understands the value and benefit of arts and culture to the heart, mind and the economy. We also welcome a new partner to the CFC, Cast & Crew Entertainment Services, who join us as co-host of all of our talent showcases, including last night's TV showcase – we are so happy to have them on board.
We would also like to acknowledge and thank our mentors and guests, who give their time, commitment and expertise to our residents year after year.
The creation of the TV Teasers wouldn't be possible without the directors, producers, editors, actors and crew that help bring these TV Teasers to life, including the 2015 residents of our Slaight Family Music Lab, who created original music for each one of the TV teasers. Thank you to everyone for sharing their talents to make the TV teasers a reality.
—
Go to article