North Carolina: Regaining Confidence
December 2017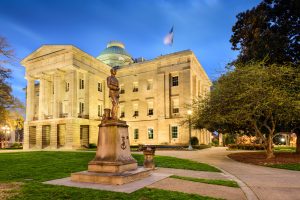 In the early days of burgeoning tax incentive programs, North Carolina played host to a booming film industry until legislation enacted during the summer of 2014 downsized the state's program. With an incentive program offering a 25 percent refundable tax credit, no annual funding cap and a per project cap of $20 million, North Carolina attracted numerous Hollywood productions.
On Aug. 7, 2014, Governor Pat McCrory signed Senate Bill 744 which shifted the incentive program from a refundable tax credit to a grant and, more importantly, it drastically reduced the annual funding cap to $10 million with a $5 million per project cap. This uncertainty in the state's commitment to film incentives also negatively impacted television series filming in the state, and ultimately fled elsewhere. States with more lucrative film incentive programs welcomed the influx of North Carolina's talented crews looking for steady employment.
In an effort to regain its position as a film production center, and to boost confidence in its film program, North Carolina legislators appropriated $30 million per year for the 2016 and 2017 fiscal years, and increased the per project cap for TV series to $9 million. On June 27, 2017, Senate Bill 257 was enacted allocating $31 million per fiscal year to the film program. North Carolina demonstrated further commitment to restoring its film industry when Governor Roy Cooper signed Senate Bill 582, on June 27, 2017, eliminating the program's sunset date.
With some funds rolling over from the previous year, North Carolina currently has approximately $34 million available through June 30, 2018 when they will receive another $31 million of funding. The future looks bright for North Carolina's incentive program as the state takes the right steps to ensure that the film community will once again play host to numerous Hollywood productions.
Recent Projects Filming in the State of North Carolina: 
Love It or List It, Bolden!, Three Billboards Outside Ebbings, Missouri
Summary of North Carolina's Film Incentive Program: 
25 percent grant on all qualified expenditures directly related to preproduction, production and postproduction
Priority is given to projects that are reasonably anticipated to maximize the benefit to North Carolina
The maximum grant an individual project may earn is capped at $5 million for a feature film, $9 million for video or television series (an entire season is considered one production) and $250,000 for a commercial
The minimum spend requirement is $5 million for a film, $1 million per episode average, and $250,000 for a commercial
Only the first $1 million of compensation paid directly or indirectly to each resident and/or nonresident qualifies for the incentive provided that North Carolina withholding taxes on the compensation has been remitted to the Department of Revenue