Cast & Crew's residuals expertise, process and system enable us to provide our clients with:

Accurate residuals payments
Easier and less-burdensome processing
Significantly faster turnaround times (the quickest in the industry) from talent set-ups to quarterly payment runs
Our system has rates and rules dating back to 1960 and is flexible enough to handle irregular or client-specific rules. We regularly maintain updated residual rates and rules for residuals calculations.
Cast & Crew's residuals operation is part of our overall payroll system, enabling a seamless and automatic transition from payroll processing to residuals. Moreover, our table-driven system design easily adapts to changing residuals requirements.
Each residuals client has a single point of contact and our team is staffed with experienced residuals professionals.
RESIDUALS PROCESSING
All residual trigger information (air dates, revenue, subscriber counts, cast lists) can be uploaded electronically or input from paper. When initial payroll is handled by Cast & Crew, the information is seamlessly fed into our residuals module, but we also can ingest data from any sources if we are not currently handling your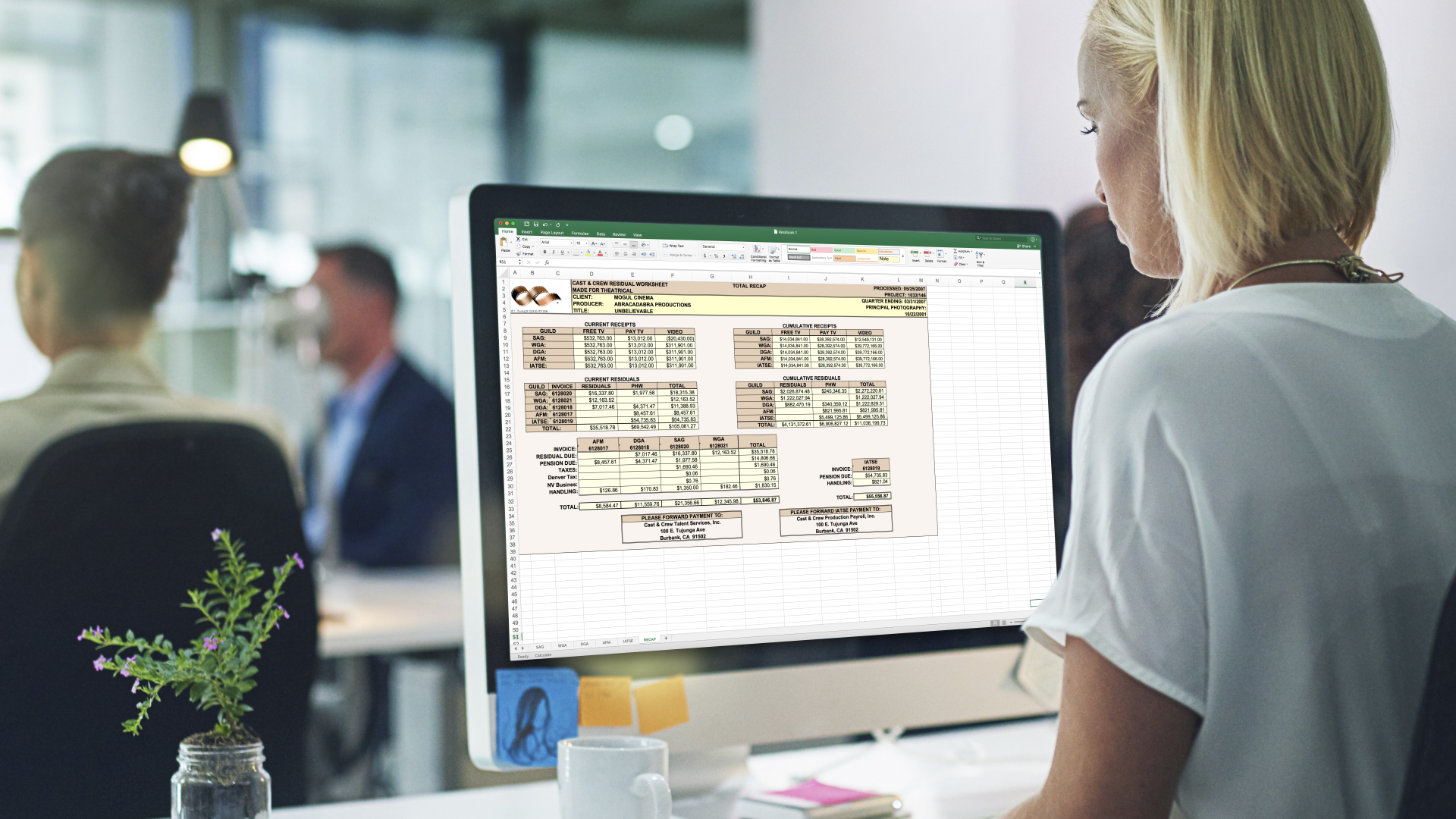 payroll.
Cast & Crew calculates and determines the amount of all required residual payments due to the exhibition and sale of productions in various markets. Cast & Crew prepares a corresponding schedule of residuals for each respective project either for informational purposes or for actual payment. Residual payments are then made to each entitled individual from an approved residual schedule.
We employ a rigorous quality-assurance process before payments are calculated and sent for approval.
UNIONS, GUILDS AND TRUSTS
Clients rely on Cast & Crew for our solid working relationships with industry unions, guilds and trust funds. We make sure all employees are paid in compliance with their respective collective-bargaining agreements (whether basic or negotiated). All applicable union, guild and trust fund payments and reporting are fully accommodated.
Cast & Crew reports all payroll tax deductions and pays all employer tax contributions. All necessary filings and mailings are handled as mandated in addition to year-end reporting and filing requests.
We deliver residual invoices and reports in easy-to-read formats that have become the industry standard. Cast & Crew maintains all applicable records and printouts in accordance with each client's residual service agreement.
For more information, please contact:
Telephone: 818. 848.6022
Fax: 818.848.4614
Email: info_marketing@castandcrew.com