Ohio: Generous Funding Cap Lures Productions
April 2018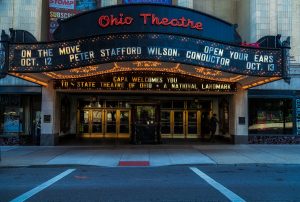 Since 2009, Ohio has been enticing production companies to film in the Midwest by offering a generous incentive program, which includes a 30 percent taxcredit on cast and crew wages and qualifying goods purchased or rented and consumed in-state. While the incentive is administered on a first-come, first-served basis, priority is given to TV series and miniseries. To be considered, a production must spend at least $300,000 and fall under one of the many types of projects that qualify – feature films, TV series/pilots, mini-series, documentaries, commercials, digital media, interactive games/television/ websites, video games and webisodes.
Furthermore, the Buckeye State has six regional film commissions located in Cincinnati, Cleveland, Columbus, Dayton, Hamilton and Youngstown, offering productions a range of settings from quaint Midwestern towns to cityscapes that double as NYC.
Hopefully, the current efforts behind 2018's House Bill 525, which proposes a $100 million annual cap, will gain the support necessary to carry it to the governor's desk. In the meantime, Ohio's film incentive program will have to make do with $40 million annually, so be sure to check on the availability of funds with a film commissioner before applying.
For more details on the Ohio production incentive program, please visit ohiofilmoffice.com.
Summary of Ohio Film Incentives Program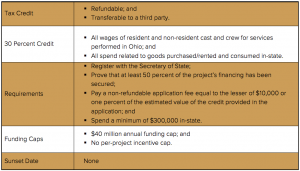 Recent Projects Filmed in Ohio
The Public (2017), Fast & Furious 8 (2016), A Christmas Melody (2016), I Am Wrath (2016), Survivor's Remorse – Season 2 (2015), Liberal Arts (2012).