MyCast&Crew, Start+ and Hours+: Webinar Highlights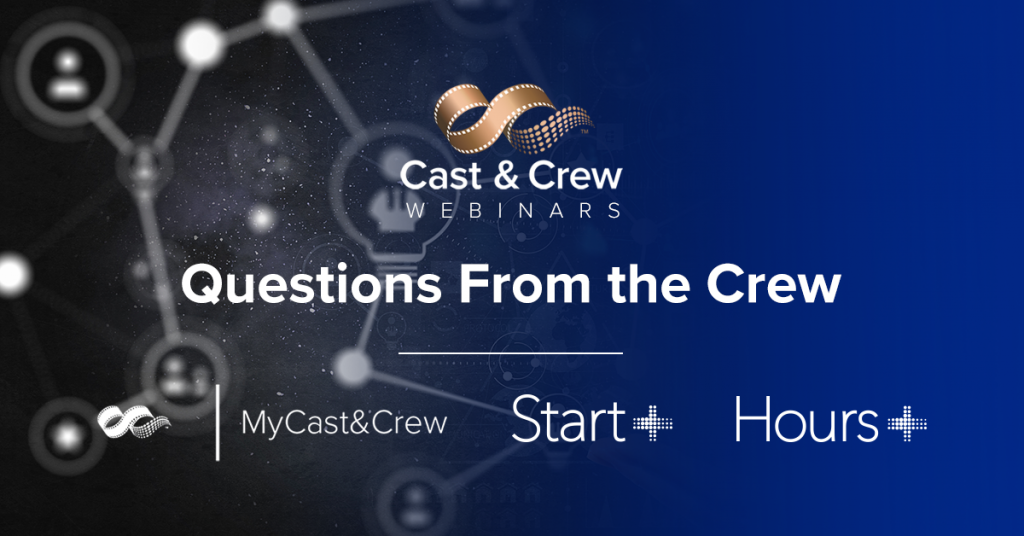 Productions are starting again. With the return to work comes new technology to keep us safe.
In a recent Cast & Crew webinar, Creating the Digital Production Office®, we reviewed what you need to do to prepare for production post-COVID. Topics covered include using MyCast&Crew, Start+ and Hours+ to create and manage your digital profile, digitally accepting offers, e-signing your onboarding documents, and completing your timecards on the go – all while leaving paper behind and keeping your social distance. Below are some of the top Q&As from the webinar.
Click here to view the entire webinar.
How do I register for MyCast&Crew?

This can be done by going to www.my.castandcrew.com and clicking on the "Register for W2/Pay Stubs/Direct Deposit."

I am having difficulty registering or logging in.

Click here for an overview of how to login MyCast&Crew Training. If you continue to experience issues, please contact Plus.Support@castandcrew.com.

I have never worked for a Cast & Crew production before. Am l able register for a profile?

You can only register for a MyCast&Crew account if you have been paid by Cast & Crew on a past production. If not, you will need to be invited and receive an offer via Start+ to register.

Is there a Cast & Crew App or are we able to set up our accounts on our phone browser?

You are able to access and set up your MyCast&Crew profile through your web browser on your phone, e.g. Chrome, Safari or Firefox.

Can I set up direct deposit on MyCast&Crew?

Yes! You are able to set up your direct deposit through your profile after you register.

If I don't set up direct deposit, will my checks be mailed?

Checks will be mailed from Cast & Crew.

Can I access paystubs on MyCast&Crew?

Yes! Paystubs are available from the moment you register and create your profile.

Can I access my W-2 on MyCast&Crew?

Yes! W-2s are available from the time you have registered dating back to 2018. W-2s are available for a seven (7) year period.

Can I view or change my W-4?

Yes! W-4s are available on my.castandcrew.com. Once you register, you may view, update or add additional State W4s in your profile at any time.

How does I9 Verification work on Start+ for crew members?

During the Start+ onboarding process, crew members complete page 1 of the I9 in their offer documents. You will need to verify digitally or in-person depending on your production's policies and procedures.

Is Start+ available for international productions?

Currently, our products are for US productions only and will be available in Canada in January, 2021. For international productions, please contact our sister company in the UK, Sargent-Disc and their suite of products available for international productions www.digitalproductionoffice.com

My production needs my box rental inventory; do I need to fill that out separately?

You can upload supporting documents such as box rental inventories, proof of car insurance, etc. in the "My Files" Tab of your profile. We accept JPG, PNG, PDF formats. These documents will remain in your files and can be submitted to any project that requires them.

Are Cast & Crew products for all crew?

Currently, Start+ and Hours+ are available for below-the-line employees. We support both individual, loan-out. Union and non-union employees.

Will paper start packets no longer be accepted by Cast & Crew?

While we encourage all crew to complete their start paperwork through Start+, we understand it may not always be possible. We also offer a paper option.

I am a last-minute replacement for a crew member, will I be able to use Start+ to complete my start paperwork?

Yes! Start+ and Hours+ are available to all below-the-line crew regardless of when you start or how long you are on the project.

Will my department head be able to review my timecard before it is submitted to accounting on Hours+?

Yes, department heads and keys can be set up to approve timecards before they are submitted to payroll. In addition, department heads and keys are able to create timecards for their crew, if necessary.