Cast & Crew Makes It Easy to Submit Workers' Compensation Claims Via the STARS Intake App
June 18, 2020
Workers' compensation insurance is a key element of every entertainment production's safety plan, providing medical and financial assistance to entertainment industry employees who are injured on the job or who contract an employment-related illness.
Along with many other services, Cast & Crew provides workers' compensation services for its clients. Should an illness or injury occur on a production, Cast & Crew will complete and submit all necessary paperwork to the insurance carrier while making sure all legal requirements are met, working with the injured/ill worker to ensure they understand the workers compensation claim process, helping facilitate medical appointments, ensuring the employee receives access to appropriate benefits, and monitor the employee's return to work status. The only thing production reps need to do to get a claim set up is report the injury or illness to Cast & Crew — Cast & Crew will take it from there and then remain the production's single point of contact for the life of the claim, including helping the production employer to assess return to work possibilities when the injured worker is released to work by a physician.
Decades ago, a production's claim report was made on a handwritten form and either mailed, faxed, or submitted in person for processing. As the Internet became more ubiquitous, the handwritten form could be scanned into a PDF file and emailed to Cast & Crew. Eventually, it became possible to complete the report as a fillable PDF or on-line form. And now, at the height of the smartphone era, Cast & Crew has made it possible to submit a workers' compensation claim using an app.
The STARS Intake app allows Cast & Crew clients to file workers' compensation claims from anywhere using an iPhone, Android, or other mobile device. It's surprisingly simple to use: the production representative logs on using credentials provided by Cast & Crew and enters (either manually or via talk-to-text) information related to the incident across five easy-to-navigate screens – General Information, Employee Information, Accident Information, Safety Information, and Witness Information. The app also permits the production representative to upload any documents relevant to the illness. STARS Intake then sends the data to Cast & Crew via an encrypted channel to ensure security and confidentiality and instantly generates a claim number, which the ill or injured production team member can take to a doctor that day – there's no need to wait a day or two, as is often the case with other submission methods. While the affected team member is being cared for, the team at Cast & Crew reviews the data and then submits the claim to the insurance carrier.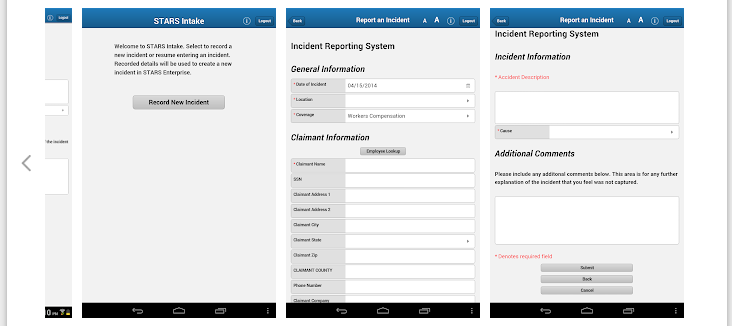 STARS Intake is rapidly becoming the preferred method of submitting workers' compensation claims for both productions and for Cast & Crew because it makes the entire claims submission process so much quicker and easier, which means that a satisfactory result for both the production and the affected worker can be achieved in a shorter amount of time while protecting the injured worker's private information through encryption. If you're not already using STARS Intake, give it a try.