BRINGING DIGITAL SOLUTIONS TO PAYROLL, ACCOUNTING AND PRODUCTION WORKFLOW MANAGEMENT.
ANDREW PATTERSON, CHIEF TECHNOLOGY OFFICER
Hear Andrew's thoughts on digitizing the production lifecycle. 
Cast & Crew's commitment is to provide our customers with products and services that go above and beyond what is expected. We anticipate your needs, find creative solutions to your issues and support you every step of the way.
Our emerging cloud-based products and services are delivering an entirely new experience for entertainment companies and the crews they employ. The new digital world is simpler, faster and more powerful and accurate.We have been hard at work applying the benefits of data and digitization to critical processes that are at the core of entertainment production. Whether it's software to facilitate and automate the (historically cumbersome) crew on-boarding process, to digitally manage timekeeping and time-card submission, or to better manage production workflow, our solutions are enabling the studio and production office of the future.
But that's just the beginning.  We believe that the entire production lifecycle, from development through distribution, can be far more organized and frictionless.  And we come to work every day with this goal in mind.
Cast & Crew's screenwriting software unit Final Draft says: It all starts with the script!
We couldn't agree more.
The script — more often than not written with Final Draft software — is the starting point, the kickoff point, for the digitization efforts that are "disrupting" the entertainment production lifecycle.
To be sure, every scene written originates in the creative mind of the writer — and is developed into an engaging viewing experience by the director. But what's exciting to us – and what is proving extremely beneficial to our customers — is that the screenwriting software that the writer used created more than just pages of a script.
In fact, when we look beyond the words typed into the writer's computer, we see the coding "propping" up the words — and we see incredible promise and potential. Yes, the screenwriter wrote a wonderful story — and the director did a super job — but it's the data and what it enables that is driving the development of our digital products and services.
When you break down the script, there's critical data relating to scene locations, schedules, budgets, assets … even metadata – data about the data!
It's this data that is powering the development and efficiency of the digitized entertainment production lifecycle.  It will facilitate more effective on-set collaboration, coordination with the studio, and even insights about what's working and what isn't. And it's what is driving Cast & Crew's development of a truly end-to-end, technology-enabled solution for our customers.
You'll be seeing more and more innovation from us as we bring the digital, data-powered production process to life.
INTERESTED IN LEARNING MORE?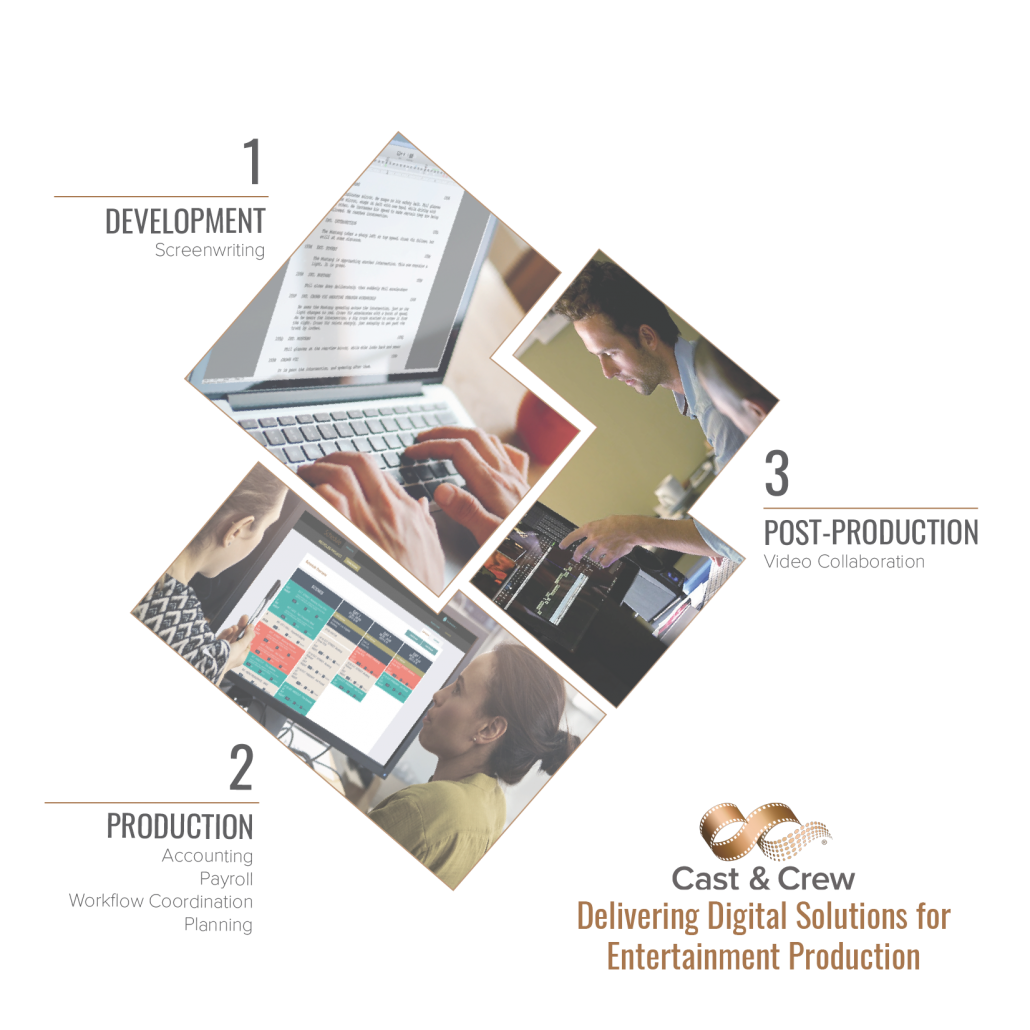 THE SECURITY YOU EXPECT FROM CAST & CREW
Cast & Crew has an unwavering commitment to security. Start+ and Hours+ features include the following:

Hosted in a highly resilient environment that supports multi-zone high availability
Support single sign-on for strong identity policy enforcement
Networks are highly segmented and tightly controlled
All data is encrypted at-rest and in-transit
Documents and data are stored within a protected ecosystem, preventing confidential information from being shared
Utilize an advanced threat protection platform with innovative real-time protection
Announcement, Coverage, Social